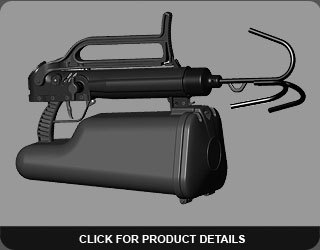 Tactical ResQmax
Product Code : 05
Product Description
Tactical Resqmax
The Tactical ResQmax™ is the line thrower specifically designed for the tactical world of line-throwing. As with all the ResQmax™ line throwers, the Tactical ResQmax™ is modular and can be used with a variety of accessories for horizontal or vertical line deployment. When equipped with a grappling hook, a climbing line can be deployed to vertical distances up to 110 ft / 34 m, and a tactical ascending ladder can be deployed to vertical distances up to 50 ft / 15 m. Entry points which would otherwise be inaccessible can be breached with ease for method of entry and ship-boarding operations in both land-based and maritime environments.
The Tactical ResQmax™ is a pneumatic line thrower specifically designed to deploy a line only, a grappling hook and climbing line, or a grappling hook and ascending ladder to an otherwise inaccessible point in both land-based and maritime environments without putting the operator at risk.
Utilizing a patented air-thrust technology, the ResQmax™ is non-pyrotechnic, reusable, and refillable.
Launcher housings are injection-molded from polycarbonate for durability and high impact resistance.
3,000 psi / 207 bar service pressure line projectiles.

MAXimum Distance
The Tactical ResQmax™ is capable of deploying a standard line up to 250 ft / 75 m depending on the service pressure, weight of line, and type of projectile used. Distances of over 400 ft / 120 m can be achieved using customized line options.

MAXimum Safety
The safety mechanism is "always on," resetting automatically when a projectile is inserted.

The projectile's "Push-Click" engagement allows easy reloading, even in the dark.

A pressure relief burst disk prevents unsafe pressure build-up that could result from exposure to extreme heat.

MAXimum Performance
Multi-Shot Capacity.
The patented nozzle valve permits any number of projectiles to be precharged and stored with the unit, allowing deployment of multiple projectiles in rapid succession.
Line Options
Line Specifications
List of standard lines for the Tactical ResQmax™ line thrower is provided below. All the lines listed under the ResQmax™ can also be used with the Tactical ResQmax™ line thrower. Additionally, custom lines can be provided to fit specific applications. Both the training projectiles and the standard projectile can be used with any of the lines listed below.

Part #
Description
Minimum
Break Load
Weight
per Length
Length

lbs

kg
lbs
kg
ft
m
801
7mm Nylon/Spectra Climbing Line
5,780
2,622
3.96
1.8
165
50
802
5.5mm Nylon/Spectra Climbing Line
3,200
1,194
2.60
1.2
250
75
735
40ft / 12m Ascending Ladder
7,500
3,400
5.2
2.35
40
12
Performance
Testing under varying conditions shows an average distance achieved as shown below.
Part #
Description
Horizontal with
Line Projectile
Vertical with
Climbing Grappling Hook
ft
m
ft
m
801
7mm Nylon/Spectra Climbing Line
190
55
80
25
802
5.5mm Nylon/Spectra Climbing Line
250
75
110
33
735
40ft / 12m Ascending Ladder
n/a
n/a
40
12
Features
Tactical ResQmax™ Launcher
The Tactical ResQmax™ Launcher is a diverse line deployment tool which can be used as a line thrower or a grapnel launcher in both urban and maritime environments. The housing is injection-molded polycarbonate for durability and high impact resistance.
Folding Stock
A folding stock is designed for greater accuracy of deployment and serves as a convenient carry handle in the collapsed position.
Standard Line Projectile
The Standard Line Projectile will throw a variety of payloads including line, rope, or ascending ladders of differing length. The delivery distance depends on the service pressure of the projectile and the type of line used.
Luminescent and Red Training Projectiles
These projectiles are designed for repeated use when deploying a line from the launch point to a hard surface. The high density urethane protective cover reduces "bounce" on landing making it ideal for RASing, UNREPS, or training operations.
Climbing Grappling Hook
Fabricated from titanium, this three-pronged hook is dipped in EFEX to reduce signature noise and is certified for climbing.
Climbing Grappling Hook with Barbed Tines
Fabricated from titanium, this three-pronged hook comes complete with barbed tips to ensure anchoring. The hook is dipped in EFEX to reduce the sound signature and is certified for climbing.
Payloads
A variety of lines and payloads can be thrown using the Tactical ResQmax™ line thrower. Climbing lines are supplied in black and have standard diameters of 5.5 mm and 7.0 mm. Custom ropes are available upon request. Tactical Ladder is part of the standard product offering and is described in detail to the right.
Tactical Ladder
Lightweight, durable, and acoustically covert! Constructed of nylon webbing with fiberglass rungs at 12 in /30 cm o.c., this ladder is available in 50 ft /15 m lengths that can be fully deployed vertically. Side members have a combined breaking strength of 4,800 lbs / 2,180 kg.
Streamline Filler Hose
The Streamline Filler Hose is used to deliver compressed air from a high-pressure air compressor, an SCBA tank, or a SCUBA tank to a projectile. This provides the "charge" for the projectile. Please ensure that your Streamline Filler Hose is equipped properly for your source of compressed air.
ResQmax™ Tool Kit
ResQmax™ Tool Kit is an optional component that can be purchased with any Tactical ResQmax™ Kit and provides all the tools needed for operational maintenance of the Tactical ResQmax™.
Kit Carry Bag
The rugged Cordura fabric carry bag is designed for durability and convenience. The bag features two external and one internal zippered storage pockets, reinforced water-resistant vinyl bottom, and reflective strips.
"Pelican" Transport / Storage Case
An unbreakable, watertight, dust-proof, chemical-resistant, and corrosion-proof transport / storage case made of Ultra Impact structural copolymer. May be adapted to fasten to the rail of a vessel.

Standard Kits

Kit 450 - Tactical ResQmax™ Climbing Line Specification Sheet

Kit 457 - Tactical ResQmax™ Method of Entry Specification Sheet

Kit 458 - Tactical ResQmax™ Combo Specification Sheet

Contact Us
R-482, New Rajendra Nagar, Sushil Muni Square,Near Punjab National Bank, Shankar Road, New Delhi, Delhi, 110060, India
Phone :+917042671296