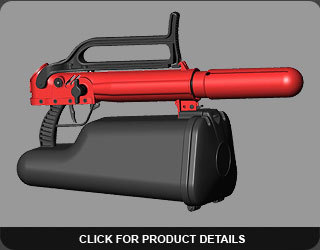 Rescue Equipments
Product Code : 01
Product Description
The ResQmax™ line thrower is the essential tool for water rescue. Varied in its applications the ResQmax™ can deploy a wide variety of lines to distances up to 400 ft / 122 m. Because the ResQmax™ is a non-pyrotechnic line thrower, it does not require special storage, shipping, or licensing. This pneumatic line thrower replaces traditional pyrotechnic line guns with an intrinsically safe option. The system is powered by compressed air and the components can be reused, making line-throwing training an inexpensive operation.
Need information about the Original Rescue line throwing device?
Please Note: The Original Rescue was replaced by the ResQmax in 2004.
Parts and Servicing for the Rescue are no longer offered.
Please Note:
The Original Rescue has been out of production since 2004 and has been replaced by the ResQmax. Support for the Rescue was discontinued in June 2009.

Introducing new generation ResQmax™ system:
The original Rescue has evolved into the new generation ResQmax™ system. This new system has many inherent advantages over its predecessor, and over other products in the market, including:
Rugged polycarbonate launcher housing - corrosion-proof and impact resistant, with a lifetime guarantee against defects
"Always On" safety mechanism - with the safety engaging automatically each time a projectile is loaded into the launcher, eliminating the risk of human error
Stainless Steel internal mechanism - for a corrosion-free service life
"Nozzle Valve"-equipped projectiles - allowing any number of projectiles to be precharged and stored with the unit for multiple shots in rapid succession
Folding shoulder stock - enhancing accuracy during shooting and acting as a convenient carry handle in the collapsed position
Line containers integral to the launcher - easily repacked in the field and permitting high mobility in emergency situations
Wide range of high strength line options, including custom lines for special applications
Dual scale pressure gauge (psi/bar or psi/MPa) with luminous face - allowing the operator to monitor the operating pressure during night operations
New Streamline filler assembly - equipped with quick-connect fittings providing ease of operation when filling projectiles and allowing for the interchangeable use of multiple supply-side fittings, allowing air to be decanted from an SCBA tank, a SCUBA tank, or directly from high-pressure compressor or other suitable air source
New Streamline injection-molded nozzle protectors - made from rugged glass-filled urethane, with high impact resilience to a hard landing and little cost to replace if damaged
*** NOTE ***
A trade-in program is currently available to owners of the original Rescue. Please contact us at below details if you would like more information about trading in the original Rescue toward the purchase of a new generation ResQmax™ system.
The ResQmax™ is a new generation line thrower specifically designed to deploy a line only, or an auto-inflating flotation sling and retrieval line to an otherwise inaccessible point in both land-based and maritime environments, providing an emergency response capability without putting the rescuer at risk.
Utilizing a patented air-thrust launcher technology, the ResQmax™ is non-pyrotechnic, reusable, and refillable.
Launcher housings are injection-molded from polycarbonate for durability and high impact resistance.
Two manual back-up systems on the auto-inflating sling assure fail-safe inflation.
3,000 psi / 207 bar service pressure line projectiles.
The ResQmax™ line thrower comes in standard kits and can also be equipped with lines of specific strength and length to target end-user requirements. This line thrower is especially useful for rescues where a heavy line is required or long distances must be breached. Operational lines can be established with ease for a variety of applications including high or low angle rescue, construction projects, and ship-to-ship line deployment.

MAXimum Distance
As a line thrower, the ResQmax™ can deliver a variety of line types, depending on the application, over distances up to 400 ft / 120 m.
As a water-rescue device, it can deliver an auto-inflating flotation sling and retrieval line to a victim in the water over distances up to 300 ft / 92 m.

MAXimum Safety
The safety mechanism on the launcher is "always on," resetting automatically when a projectile is inserted.

The projectile's "Push-Click" engagement allows easy reloading, even in the dark.

A pressure relief burst disk prevents unsafe pressure build-up that could result from exposure to extreme heat.

MAXimum Performance
Multi-Shot Capacity.
The patented nozzle valve permits any number of projectiles to be precharged and stored with the unit, allowing deployment of multiple projectiles in rapid succession.

Did you know?
The ResQmax™ is designed to meet the requirements of the NFPA Standard 1670 Standard Operations and Training for Technical Rescue.
Line Options
Line Specifications
List of standard lines for the ResQmax™ line thrower is provided below. The Standard Projectiles and the Red & Luminescent Projectiles can be used with any of the ropes or lines listed below.
Specialized lines are available upon request.
Part #
Description
Minimum
Break Load
Weight
per Length
Length

lbs

kg
lbs
kg
ft
m
803
4mm Spectra
1,500
680
1.75
.8
500
152
804
6mm Spectra
3,000
1,360
3.50
1.6
500
152
805
3mm Dacron
500
225
1.95
.9
500
152
806
8mm Polyspectra
2,200
1,000
4.80
2.2
300
92
808
6mm Polypropylene
1,100
500
2.8
1.3
328
100
Performance
Testing under varying conditions shows an average distance achieved as shown below.
Part #
Description
with Line Projectile
with Sling Projectile
with Mooring Line Grappling Hook
ft
m
ft
m
ft
m
803
4mm Spectra
340
104
300
92
285
87
804
6mm Spectra
285
87
270
82
260
80
805
3mm Dacron
350
107
300
92
285
87
806
8mm Polyspectra
250
76
200
61
190
58
808
6mm Polypropylene
300
92
230
70
220
67
Features
ResQmax™ Launcher
The ResQmax™ line thrower is specifically designed to throw a line or an auto-inflating sling and retrieval line to an otherwise inaccessible point. The safety mechanism is "always on," resetting automatically when a projectile is inserted.
Folding Stock
A folding stock is standard for greater accuracy of deployment and serves as a convenient carry handle in the collapsed position.
Sling Projectile
The Sling Projectile will deploy an auto-inflating flotation sling and retrieval line to a victim in the water. The auto-inflatable sling is fitted with a water-activated device which inflates the sling automatically on contact with water, providing sufficient buoyancy to support a 300 lb / 136 kg victim.
Line Projectile
The Line Projectile will deploy a variety of line over a range of distances, depending on the service pressure and the type of line used.
Red Training Projectile
This projectile is designed for repeated use when deploying a line from the launch point to a hard surface. The high density urethane protective cover reduces "bounce" upon landing making it ideal for RASing, UNREPS, or training operations.
Luminescent Training Projectile
This projectile is similar in size and performance to the Red Projectile. The luminescent cover emits high initial brightness and long afterglow for night operations. The cover can be excited quickly by daylight, incandescent, fluorescent, or ultraviolet light and can be recharged indefinitely.
Streamline Filler Hose
The Streamline Filler Hose is used to deliver compressed air from a high-pressure air compressor, an SCBA tank, or a SCUBA tank to a projectile. This provides the "charge" for the projectile. Please ensure that your Streamline Filler Hose is equipped properly for your source of compressed air.
Ropes / Lines
The ResQmax™ line thrower can be supplied with a variety of ropes or lines. The standard rope offerings include Dacron, Spectra, Polypropylene, and Polyspectra in various diameters and test strengths.
Cordura Kit Carry Bag
The rugged Cordura fabric carry bag is designed for durability and convenience. The bag features two external and one internal zippered storage pockets, reinforced water-resistant vinyl bottom, and reflective strips.
"Pelican" Transport / Storage Case
An unbreakable, watertight, dust-proof, chemical-resistant, and corrosion-proof transport storage case made of Ultra Impact structural copolymer. May be adapted to fasten to the rail of a vessel.
Standard Kits

Kit 410 - ResQmax™ Line Deployment Specification Sheet
Kit 411 - ResQmax™ Surf Rescue / Line Deployment Specification Sheet
Kit 412 - ResQmax™ Swift Water / Messenger Line Specification Sheet
Kit 416 - ResQmax™ Marine Vessel / Messenger Line Specification Sheet
Kit 420 - ResQmax™ RASing / UNREPS Specification Sheet
Kit 421 - ResQmax™ Mining Specification Sheet
Contact Us
R-482, New Rajendra Nagar, Sushil Muni Square,Near Punjab National Bank, Shankar Road, New Delhi, Delhi, 110060, India
Phone :+917042671296